Summary
This document is an overview of the main page on SyncEzy's integration portal, integrations.syncezy.com. If you have any queries, please write to
support@syncezy.com
All Integrations
In the All Integrations page, you can view all of our integrations, their pricing and select the integration you need. It is essentially a catalog for you to choose from. Click on Subscribe when you choose the integration. You can also use the search bar to look for the integration you want. Clicking on the blue question mark will give you a guided tour of the page.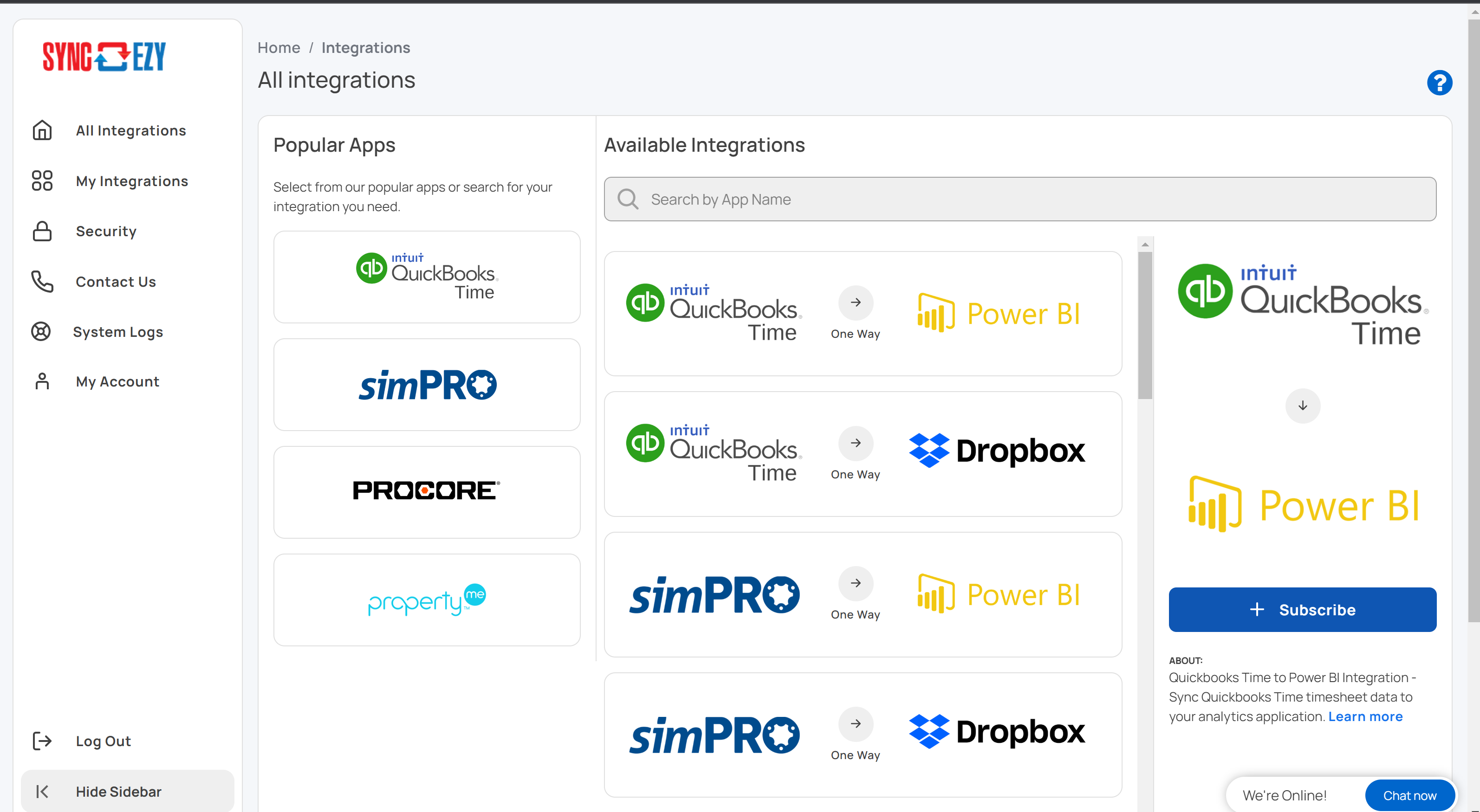 My Integrations

In the My Integrations page, you can view the integrations you have subscribed to.

In the Active tab, the apps that are toggled on and have both accounts connected will be displayed.

In the Inactive tab, the apps that you have subscribed to but not connected your accounts will be displayed.

Click on the Details tab of the integration you are subscribed to to view more details.

If the Active tab is empty, you will see a button to subscribe and that will take you to the All Integrations page.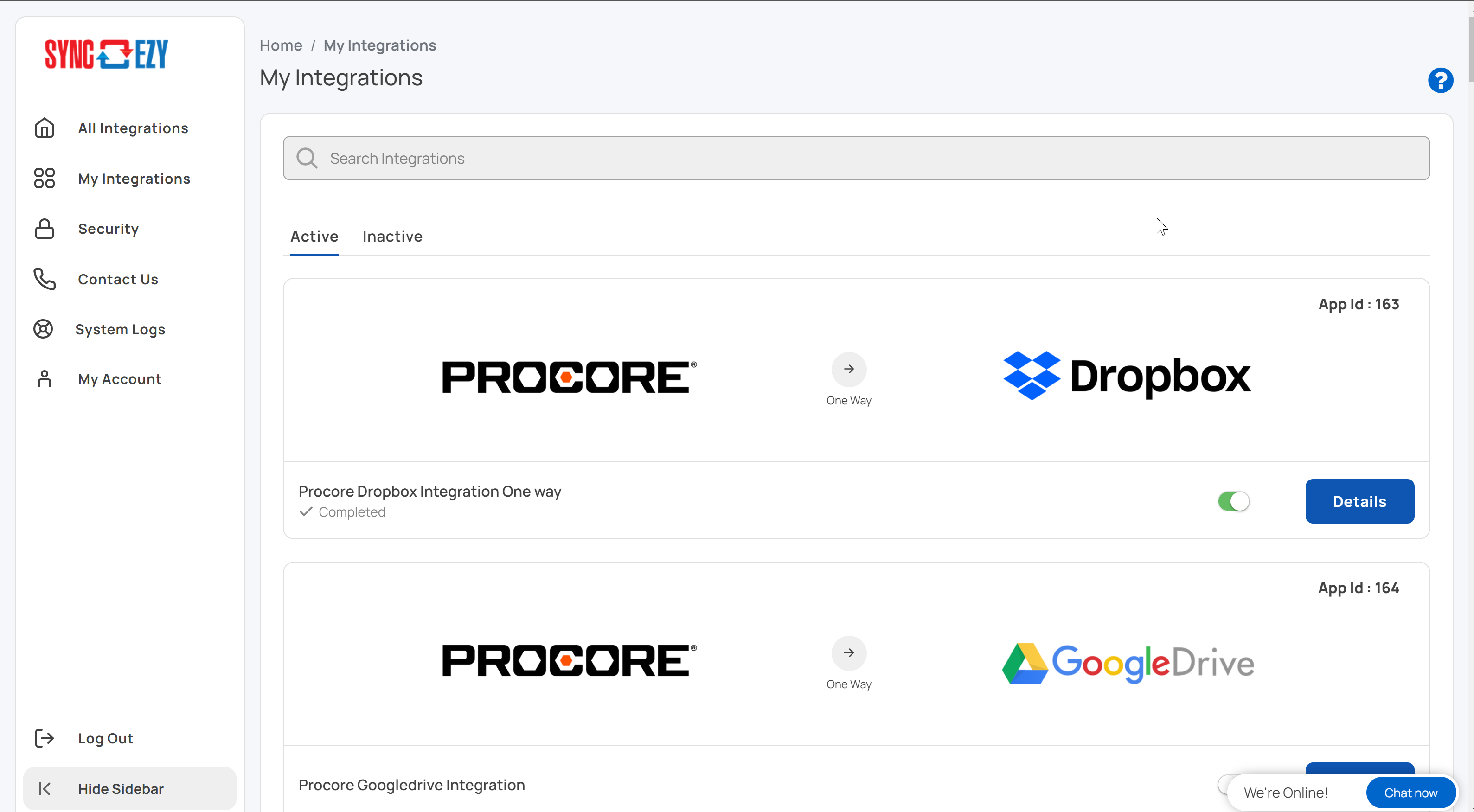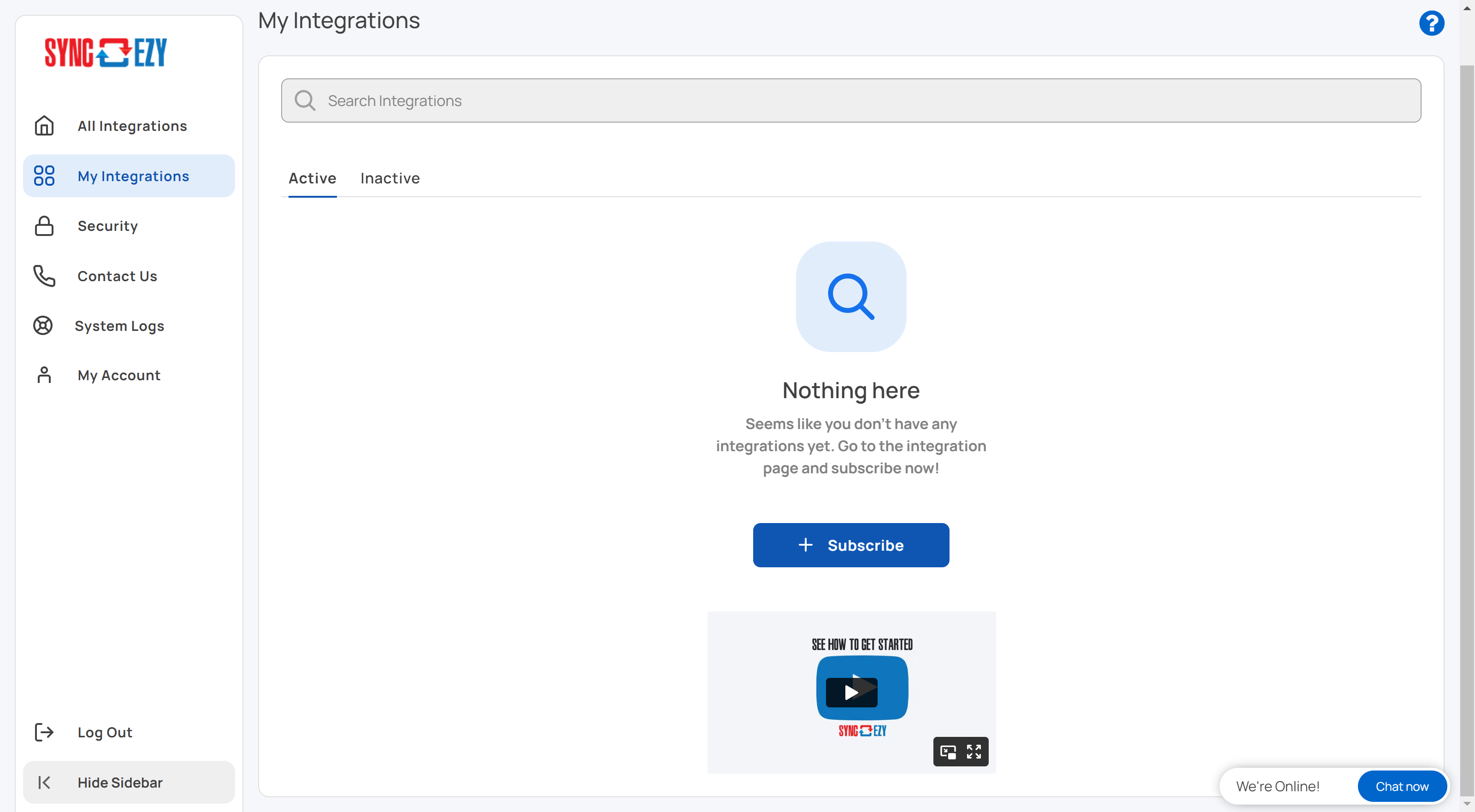 Security
The Security tab will allow to edit many details related to your account and to toggle security related settings on your account.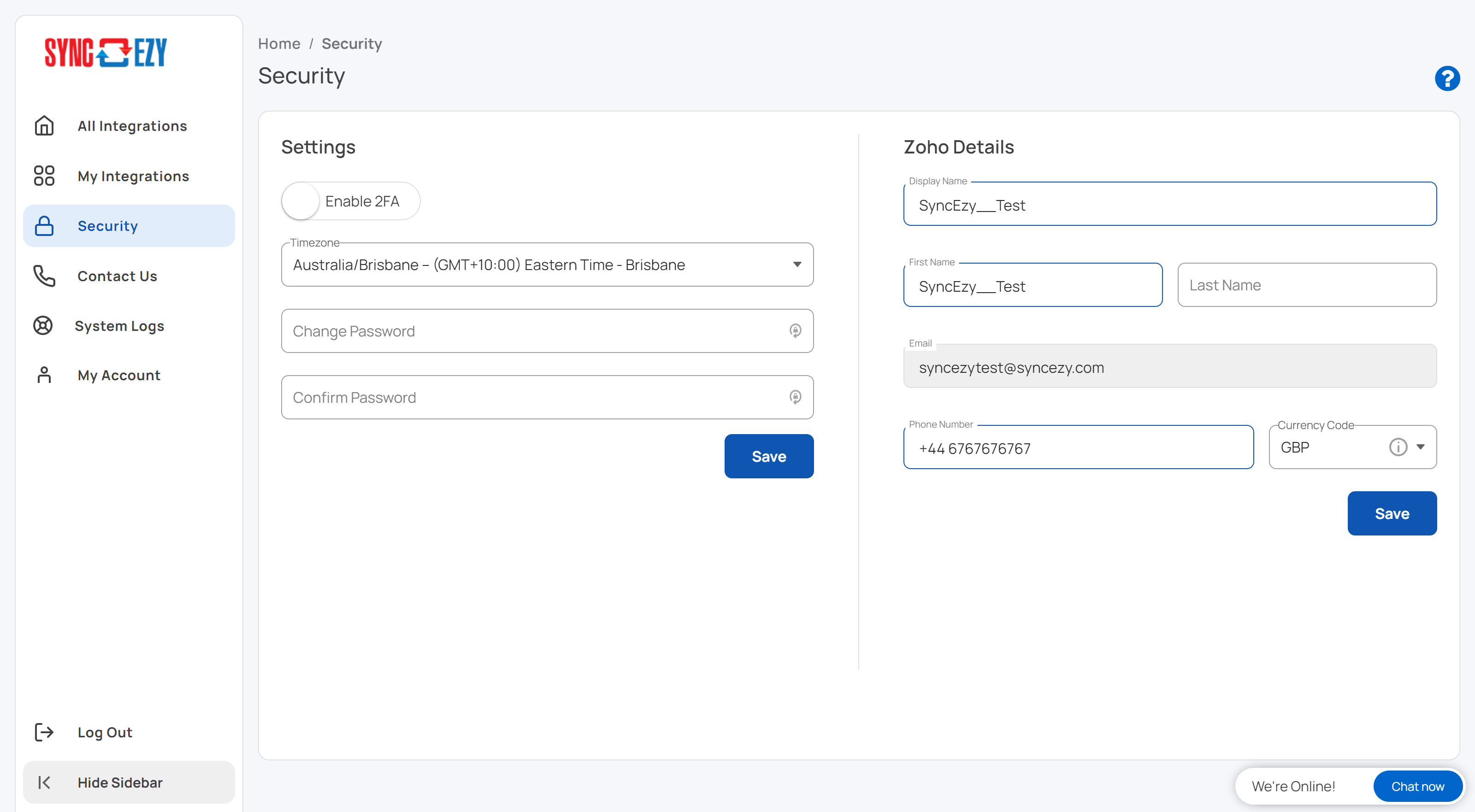 Enable 2FA
Toggling this option will enable Two Factor Authentication when logging into your account

Once you enable it, you will be prompted if you want to enable MFA. Click Yes if you wish to proceed.




Once you click yes, you will be directed to the Authentication screen. Click on "Authenticator App" to proceed with the linking to your chosen Authenticator app.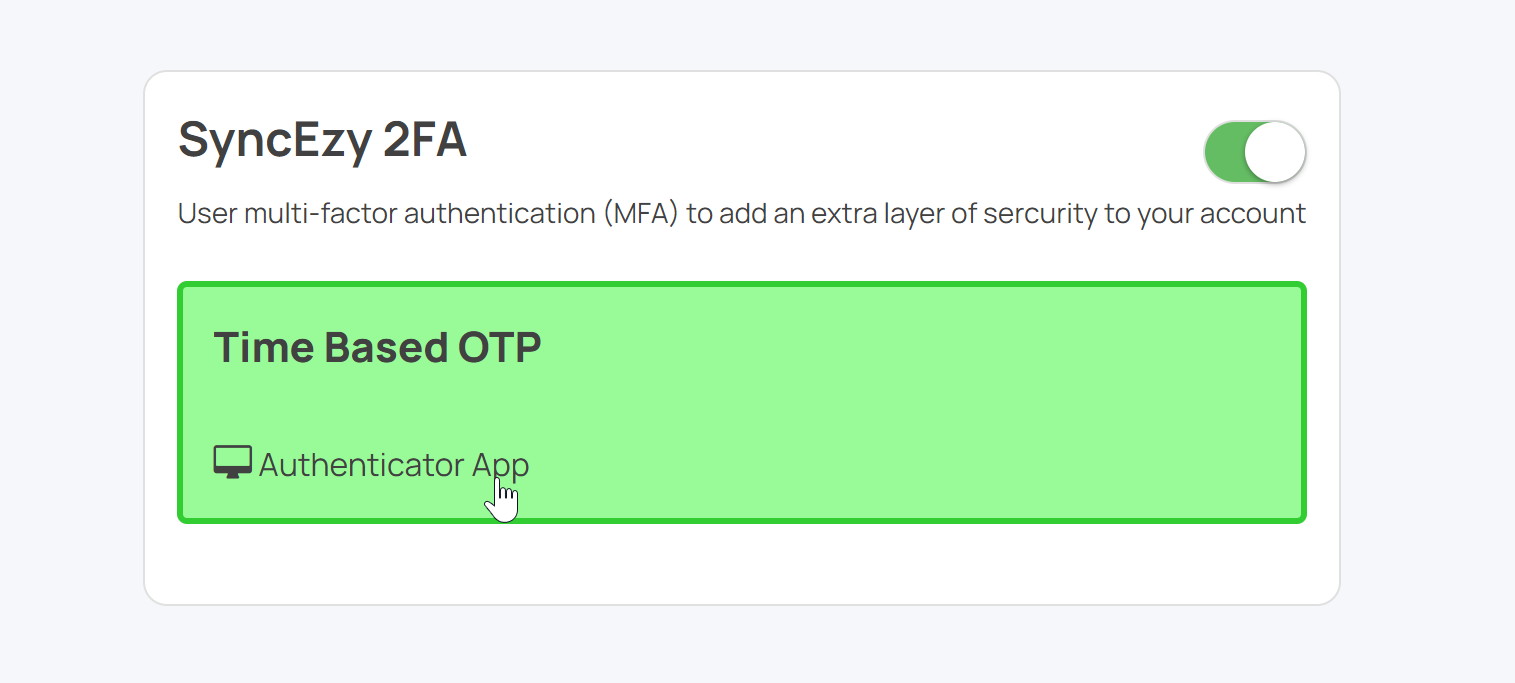 You will then be redirected to a screen with a QR code and asking you for a one-time password. Scan the QR code or enter the key in your preferred authenticator app and enter the one time password. Click Authenticate and your Two Factor Authentication should now be live in your account.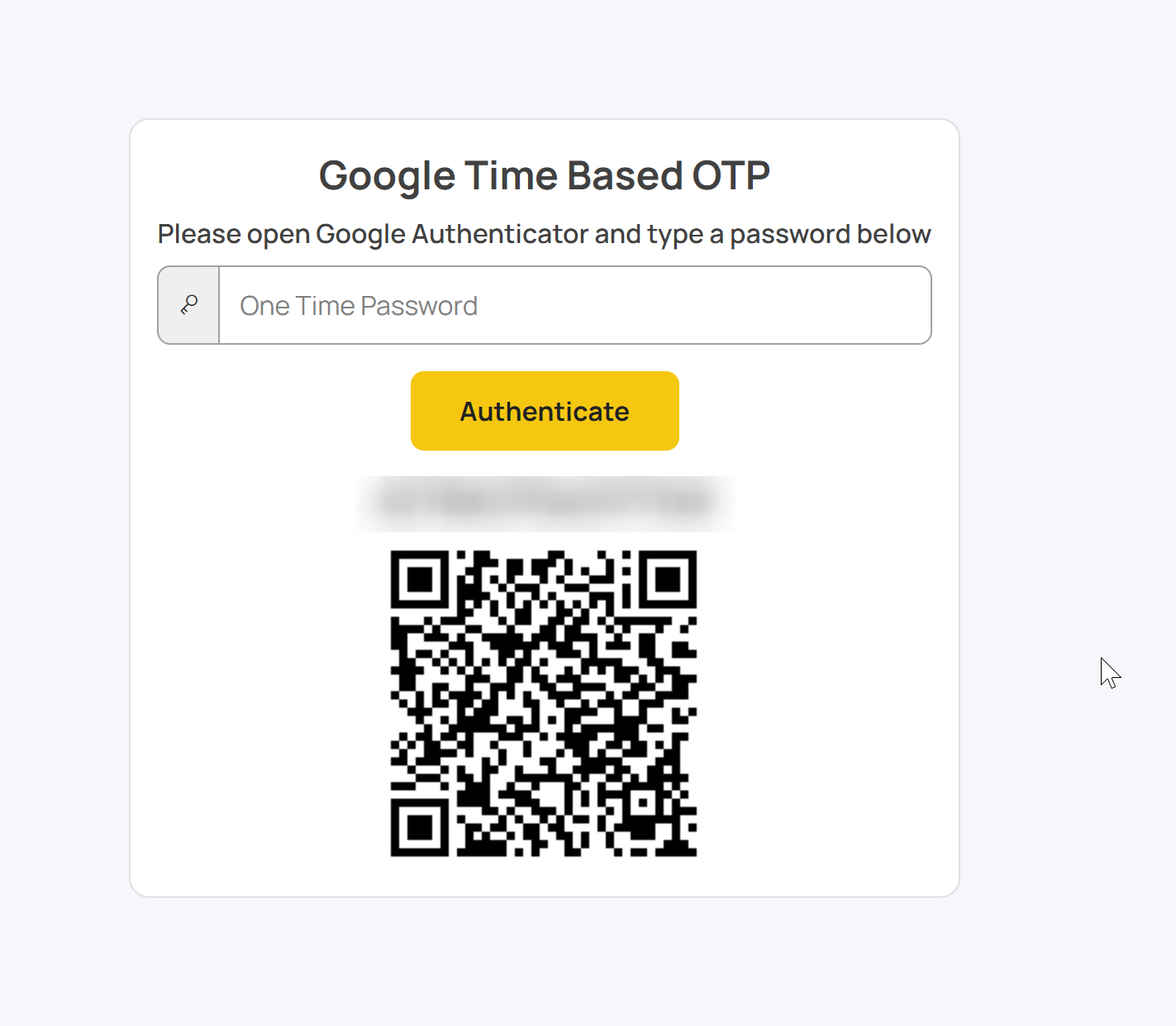 Timezone
You can choose your preferred timezone from this dropdown.

Change Password/Confirm Password
These textboxes are to change your login password to the portal.

Display Name

Change your preferred display name here.

First Name and Last Name

Change your First Name and Last Name associated with your integration here.

Email

This field is not editable. It displays the email you used to sign up to the integration portal.

Phone Number

Change the Phone Number associated with your integration here.

Currency Code

This field is not editable. It displays the currency with which the integrations will be listed in. Contact SyncEzy support if you need this changed.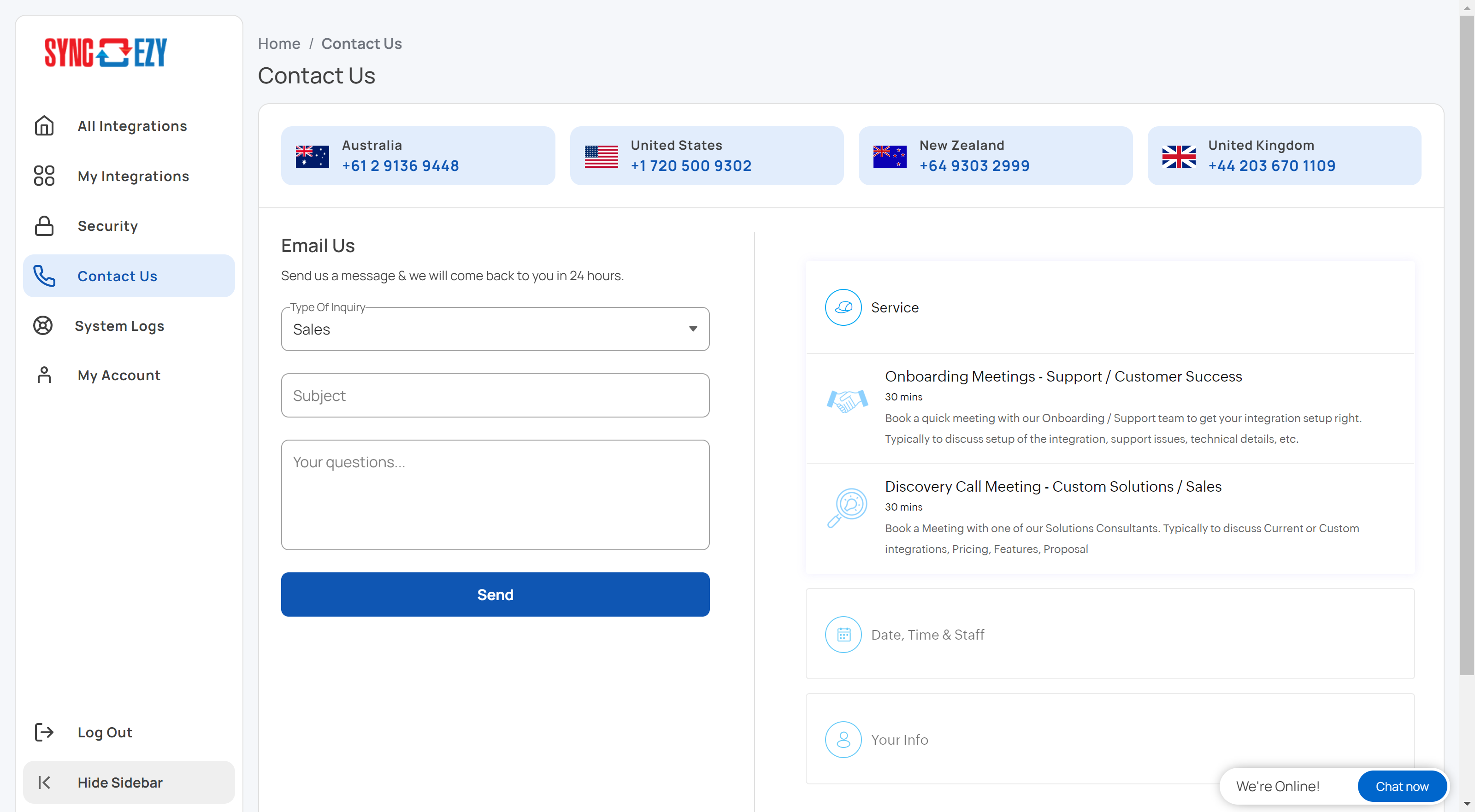 SyncEzy has four phone numbers you can dial.

Email Us
You can choose to email Sales, Support or Billing for any queries you might have.

Book a meeting
You can book a meeting with our Support team or Sales team on the right hand pane.

My Account
This section includes details about your user profile, billing details and adding team members.
My Profile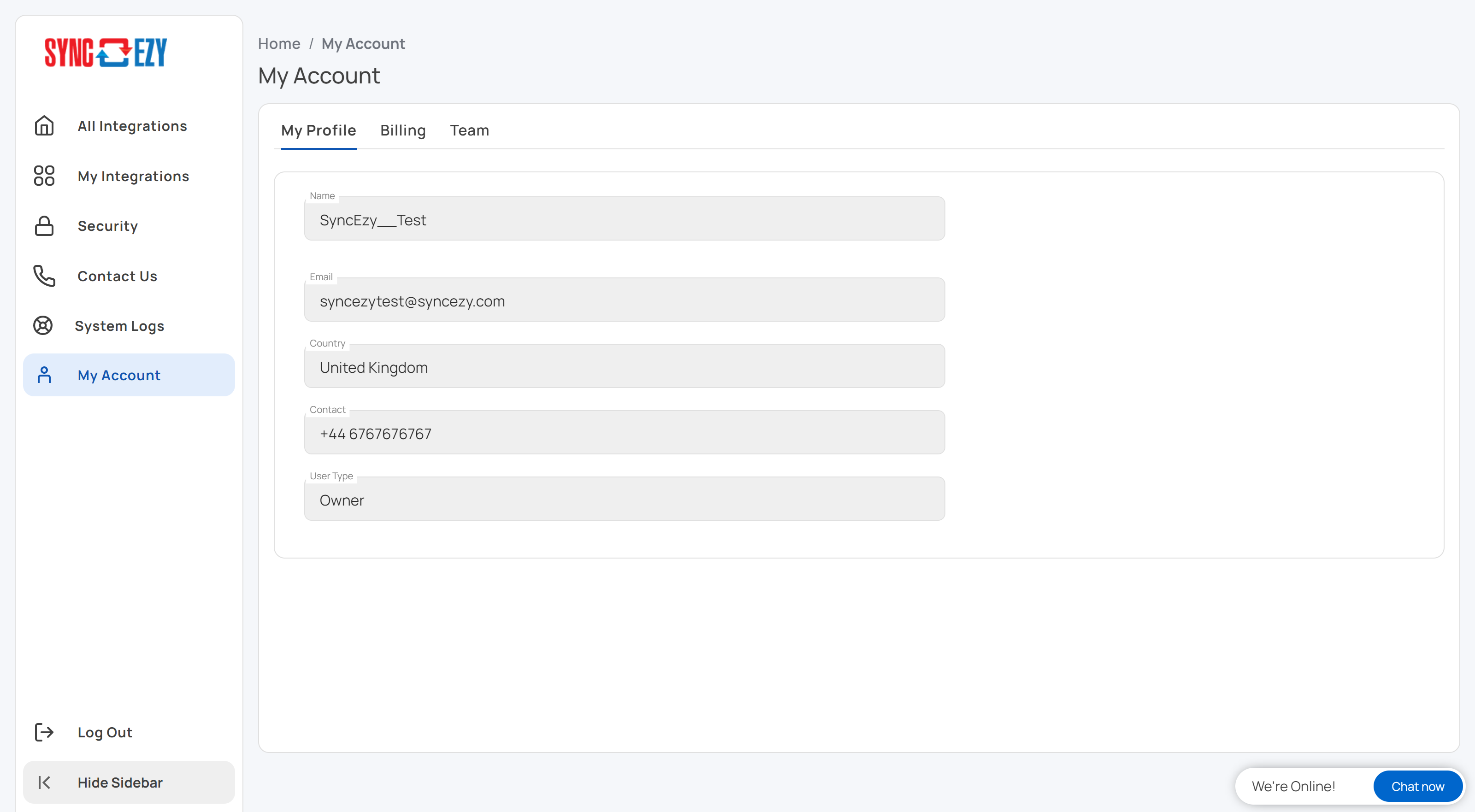 These fields are non-editable. You can find the Name, Email, Country, Phone Number and User Type associated with your account.
Billing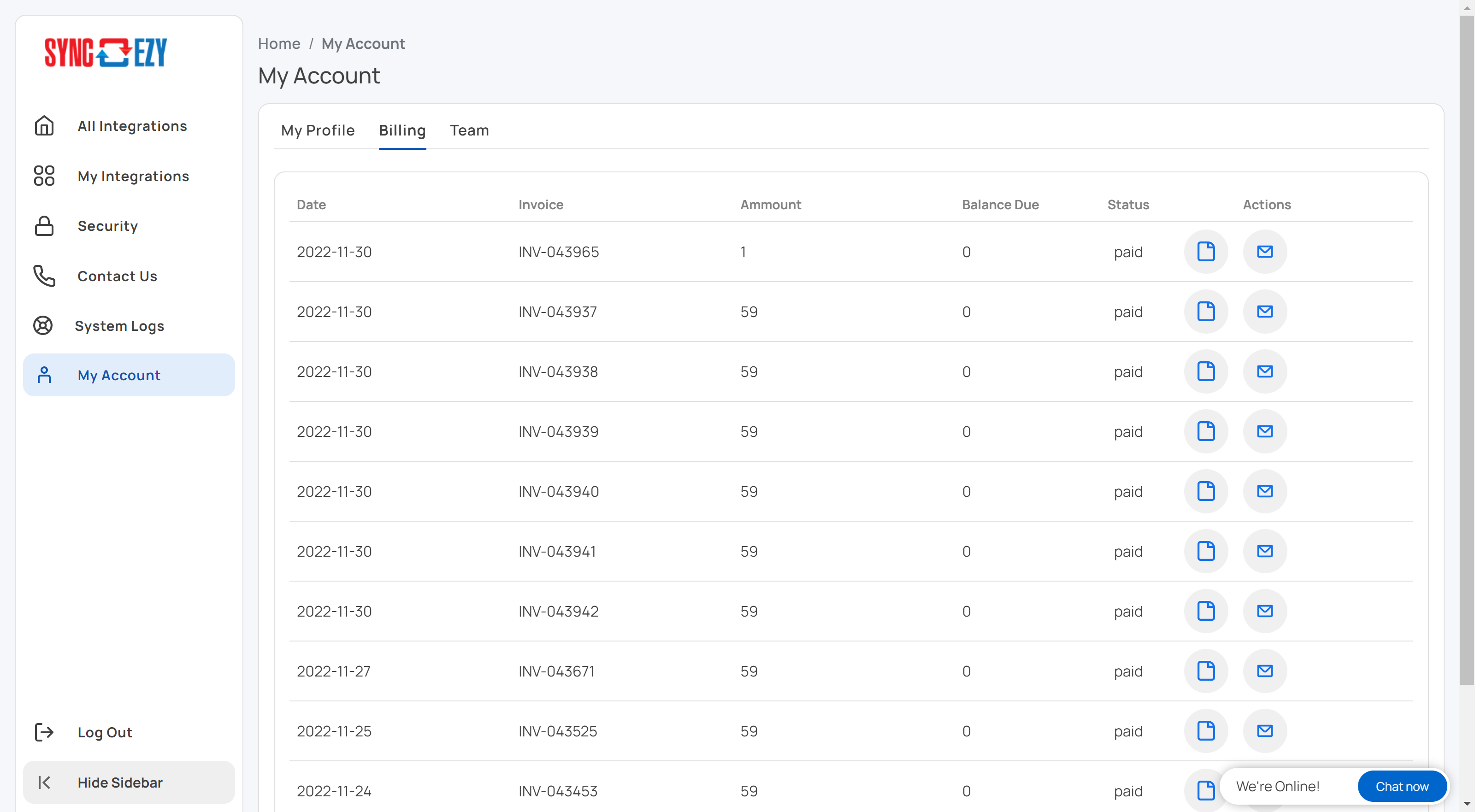 You can find all of your invoices billed to SyncEzy on this page. The table shows the status, amount, invoice number. You can also download the invoice or email it to the email address associated to the SyncEzy account.

Team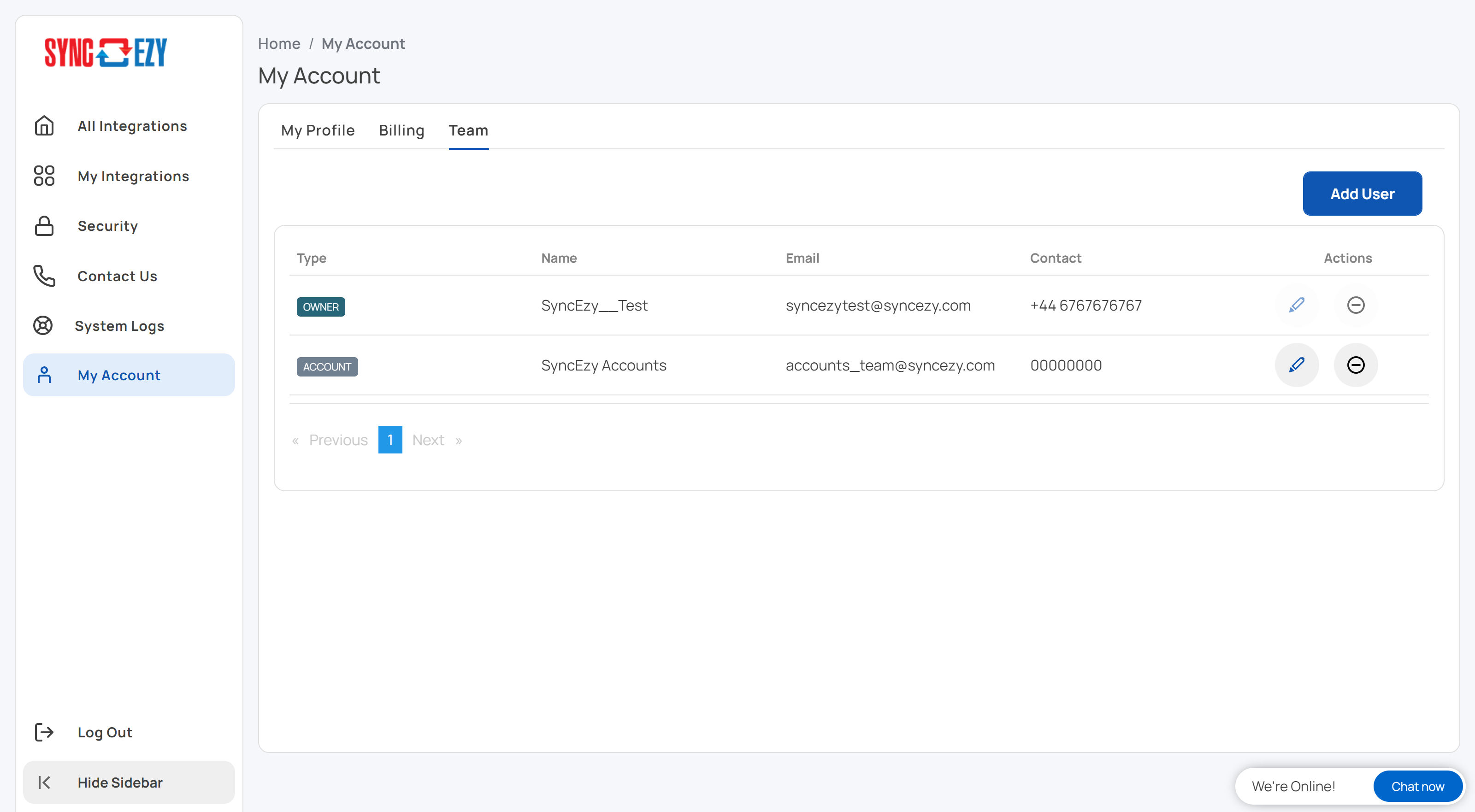 You can add multiple team members to your integrations with different permissions. The list of users who have been invited and accepted will show up here.
Click on add user to add a team member. Click on the "-" sign next to an existing user to deactivate them.
There are four types of users you can add. Permissions can be found in the table below.
Invite additional users to your integration account by filling in the Name, Email and User Type fields prompted.
Please note that once an invite is sent, invitees will be required to accept the invite and setup their account. For security reasons, the invite will expire after seven days.