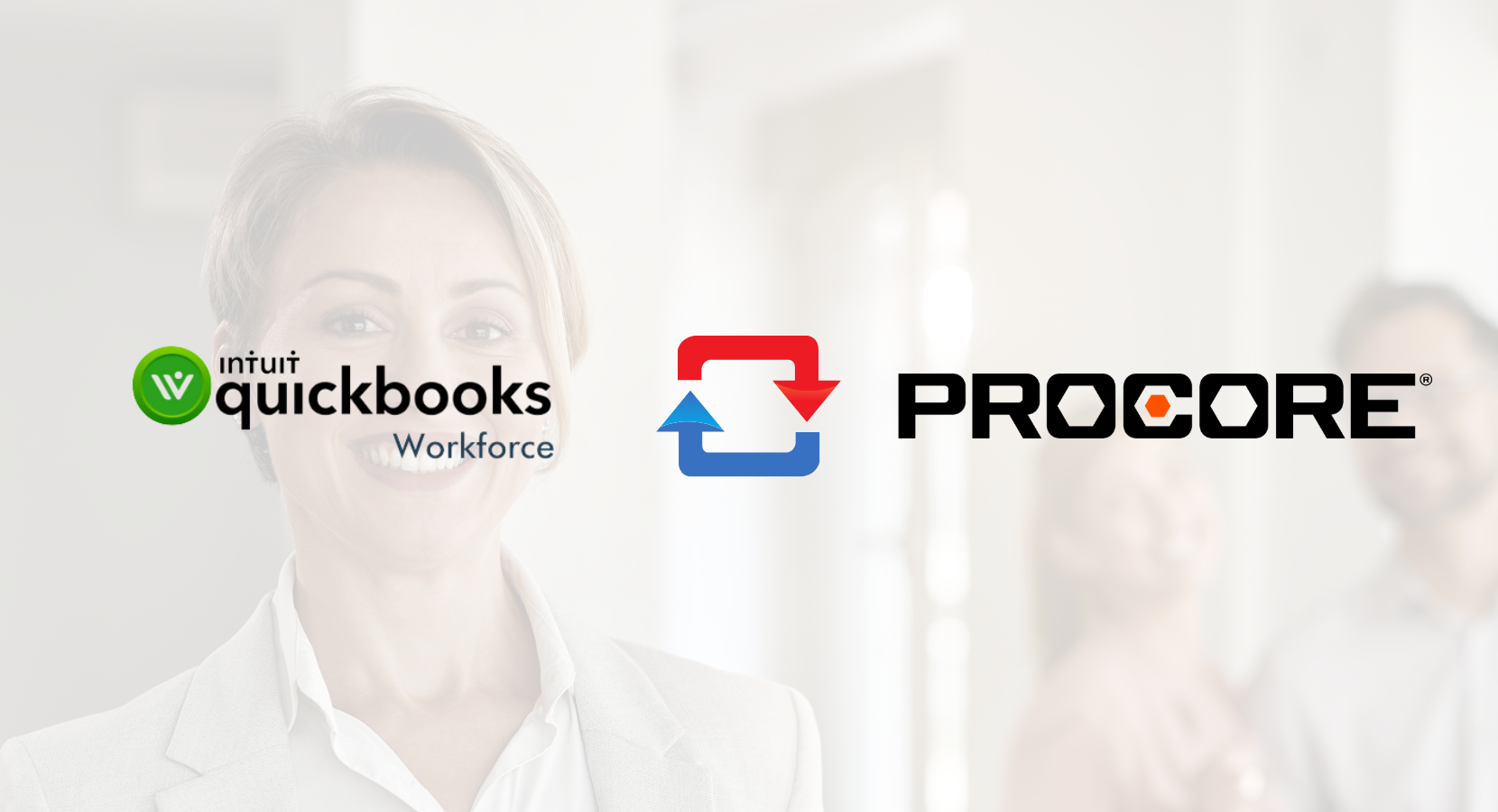 This document addresses the variety of questions we encounter while helping clients. If you have a question that's not addressed her please write to us at support@syncezy.com


About the Procore to Quickbooks Workforce integration
How often does the sync run?
Every 30 minutes. This is currently a two-way sync from Procore to Quickbooks Workforce. The sync will also run when new projects are sent from Procore to Quickbooks Workforce and when you fetch and send timesheets from Quickbooks Workforce to send them back in to Procore.
How long does it take to transfer my projects across?
Projects can be instantly synced from Procore into Quickbooks Workforce using our integration portal. The integration creates the project from Procore as a new project in Quickbooks Workforce. This is linked to the integration to ensure any updates made to jobs/sub jobs/cost codes are processed correctly. We are not able to a project in Quickbooks Workforce if you have it already setup. In order to keep the project data flowing well between Procore and Quickbooks workforce, the integration needs to create its own, new project in Quickbooks workforce.
Is the integration a 2-way sync?
Yes, we send projects from Procore to Quickbooks Worforce for your employees to clock time on project related cost codes.
Once the timesheets are approved in Quickbooks
Worforce
, you will be able to fetch and send the timesheet data back to Procore.
Where do I go to check the settings and billing details on my Quickbooks Worforce integration?
You can view your settings configurations and any billing details by going to the SyncEzy Portal here. In the Portal, navigate to Plan Details to see billing details. You can also click on the My Account menu in your SyncEzy account and select the billing tab. This will show you a list of your invoice history. Click on the icons on the right of an invoice to download or email an invoice as required.
Is there a size limit on the images that transfer across?

The size limit will be dictated by which software you are integrating with and the max upload available. For Procore, the limit is 80 MB.

Will the submitted Timesheets in Procore be automatically updated when changes are made to the time entries in QuickBooks Workforce?

If any adjustments are made to the timesheets within a week after their initial submission to Procore, our integration will seamlessly transmit the updated time data to Procore during the daily cron job, which runs every 24 hours.
Is there a limit on how many attachments can be sent in 24hrs?
There are no limits.
Can I change the Quickbooks Worforce account?
Yes, login to your SyncEzy account at integrations.syncezy.com
Choose the integration you'd like to edit and "Reset Credentials" from the left menu. This will reset your credentials on both sides and you can reconnect the Procore and Quickbooks
Worforce
to a different account. The sync will start again from scratch and resync all your files from Procore to Quickbooks
Worforce
.
Can I customize what is sent over from Procore to Quickbooks Workforce?
At this stage you can't customise what is sent over, or limit only certain files and folders to be sent over, everything from a Procore project will be sent over to Quickbooks
Worforce
.
My timesheets are not syncing to Procore. What can I do?
Timesheets rely on a couple of key things to be in place in order to send over to Procore correctly. You will need to ensure that:
The employee is paired in the Employee Pairing menu - pair their account in Procore to their account in Quickbooks Worforce.
The project they have worked on also needs to be paired in the Project Pairing menu - ensure that the cost codes are sent and that a default cost code is chosen.
If you are still having issues with sending timesheets to Procore please contact support@syncezy.com and we can check further for you.
You will need to ensure that in Procore, the employee profile needs to have Is Employee of **Company Name** as seen below:

Click on the Directory menu at the top of the screen in Procore, select Edit on the employee profile. Scroll down to the section shown above and ensure that the checkbox is selected.
Once completed go back into the SyncEzy integration and in the Employee Pairing menu, select the Refresh button on the Procore side to refresh the employee list. The employee should be there ready to pair.
I have some Inactive projects in Procore I would like to sync to Quickbooks Worforce and use.
At this stage we only show active Procore projects in the Project Pairing menu. This ensures that only projects currently being worked on are paired and used in the integration. You will need to mark the project as active in order for it to appear in the pairing list.

Other questions

Have a support question?

We offer three support channels:
Phone - # 1 for Support
US: +1 720 500 9302
Have you done this before and what about the security of data?

Yes, we have. We have been building integrations for the last eight years with over 50 integrations built across various systems. All our communication between systems is fully encrypted.