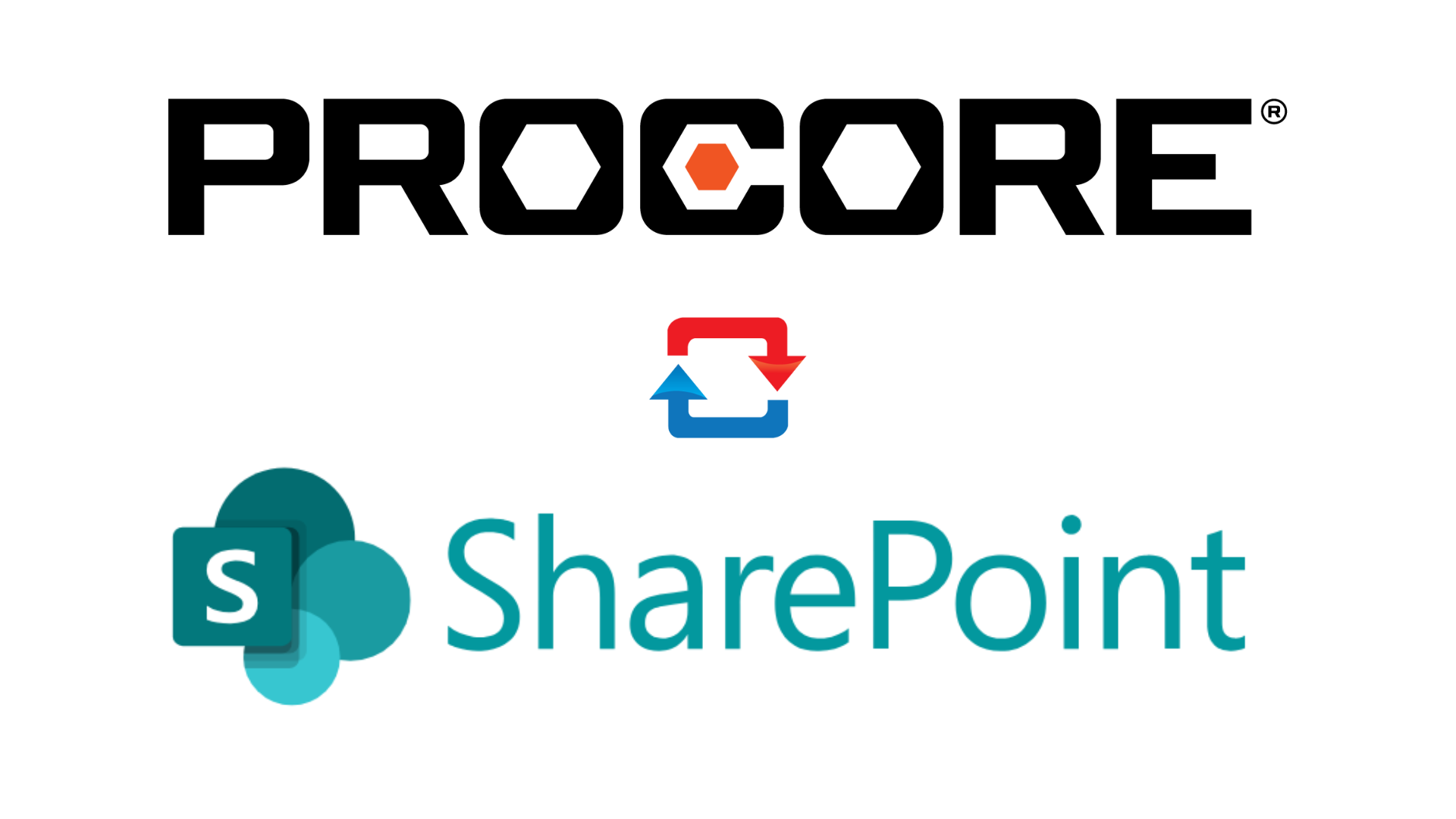 Summary
This guide will give a detailed overview of every section and tab that you can find in your Procore to SharePoint integration. This is applicable for both one-way and two-way syncs.

Dashboard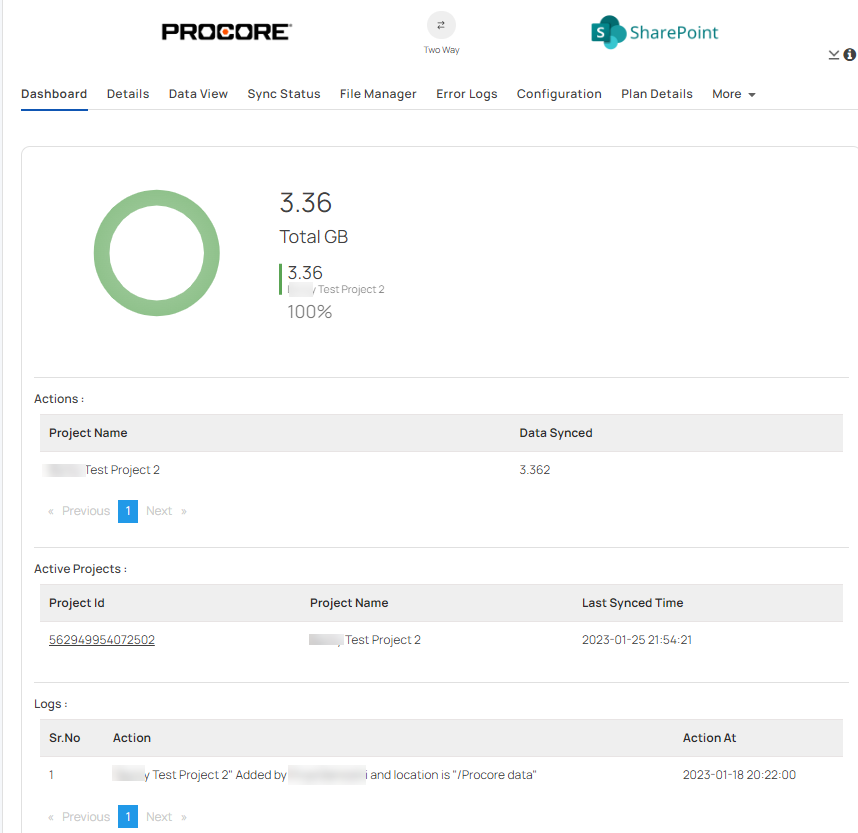 Dashboard tab gives you a detailed information on your added projects. For example, Projects Names, Size and logged activities.
Actions:

In this section you will see a list of added projects and the size of synced data on the right.

Active Projects:

In this section you will find all of your active projects, their Id's and last synced time.

Logs:

In this section you will find a list of actions that you have taken on your projects (added or removed), it will also record the time the action was taken at.


Details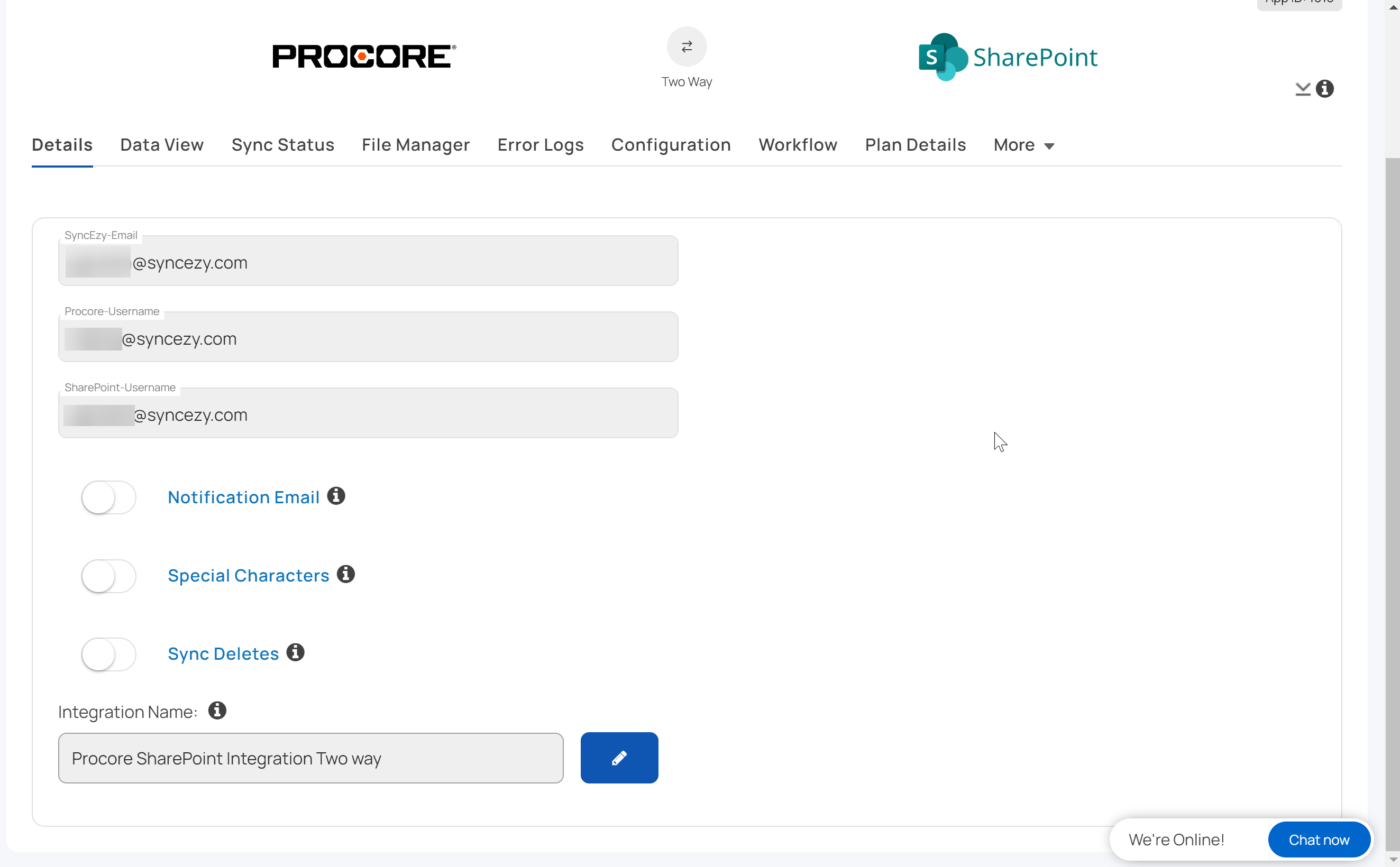 SyncEzy-Email
This is the email you signed up with to access the integration portal on integrations.syncezy.com
Procore-Username
This is the email associated with the Procore account you connected.
SharePoint-Username
This is the email associated with the SharePoint account you connected.
Notification Email
Enabling this option will send you an email to the SyncEzy-Email about the sync status.
Special Characters
The Procore-SharePoint sync does not allow special characters in the naming. Enabling this option allows us to replace these Special Characters in the Procore Photos tool Album names from # % * : < > ? / \ | ~ " to Hyphen '-'. You may face errors while syncing if you add any of these special characters in Procore or SharePoint and if this option is disabled. This feature works for the Photos tool only as Procore itself cleans up the special characters for the Documents tool whereas in the Photos tool, they allow special characters.
Sync Deletes
Enabling this option will allow you to delete files from both systems if you delete it from one. If you delete a file from Procore, it will delete it from SharePoint. If you delete a file from SharePoint, it will delete it from Procore. If this option is disabled, deleted files will not be synced and you will have to manually remove it from the other system.

Please note: For example, if this feature is enabled and your sync delete limit is set to 25 in 24 hours and you have deleted 100 files from SharePoint, the deletion of 25 files only will be synced back to Procore. This means those 25 files only will be deleted from both the applications (you are syncing your deletes). However, the deletion of the remaining 75 files will remain unsynced in Procore unless those files are deleted manually from Procore. These 75 files will be shown as unsynced when you check the File Manager in your SyncEzy Integration Portal. To avoid this we recommend you to increase the Sync Delete limit to 10000 or more. The deletion limit can be changed in the Details menu.
Integration Name

This setting is to give a custom name to your integration. Click on the pencil icon to edit and click save when you are done. You can enter 70 characters maximum

Data View


In the Data view tab, you can view data related to the Procore to SharePoint sync. You can also export them as an Excel spreadsheet.

Sync Status
You can view the sync status in this tab - success or failure. The sync runs every day and you will be able to see when it starts and when it completes.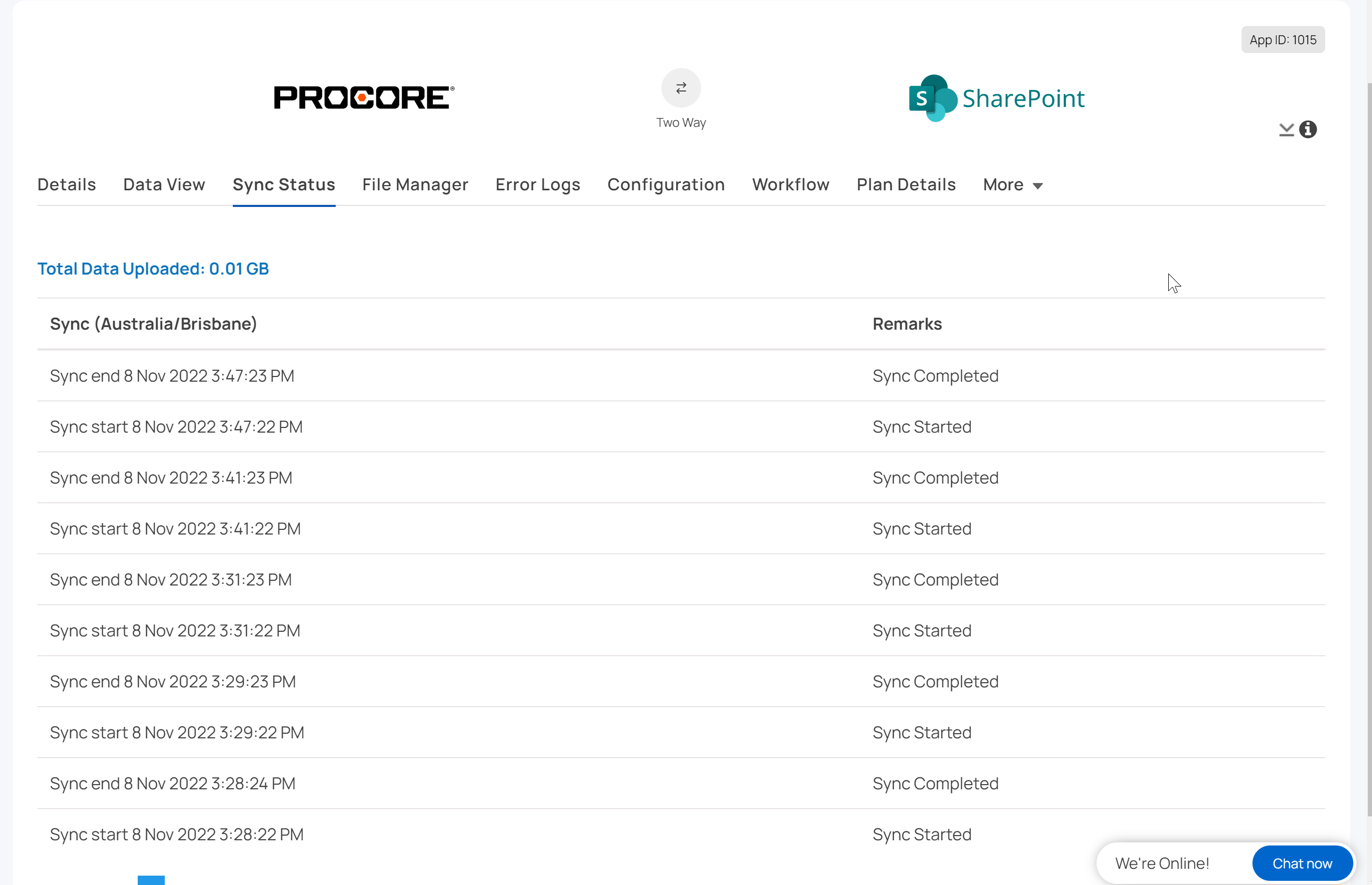 File Manager

Under the File Manager tab, you can view your files in both Procore and SharePoint.

Here is an overview of the File Manager menu, based on the screenshot below.

1 - This is a dropdown list of all the projects you configured and added to the integration.
2 - Select whether you want to view Documents or Photos and press Search to load the results.
3 - This is a link that will take you directly to the Project URL in Procore.
4 - This is a link that will take you directly to the SharePoint location you associated with the Procore project.
5 - Clicking this option will sync ALL child folders and files in the entire project. Use this option only as a backup if the integration has failed to sync the files/folders and you need them urgently.
6 - This button will allow you to sync ONLY the files and folders in the navigated level. Child and parent files/folders will not sync when this is pressed, step 5 will do this for you.
7 - The left side is a list and count of all files and folders in the Procore Project.
8 - The right side is a list and count of all files and folders in the SharePoint location.
9 - The green tick marks indicate that the files/folders are synced and matching between both systems. If it is not matching or synced, it will appear with a red cross and the text in either the Procore or SharePoint side will be greyed out.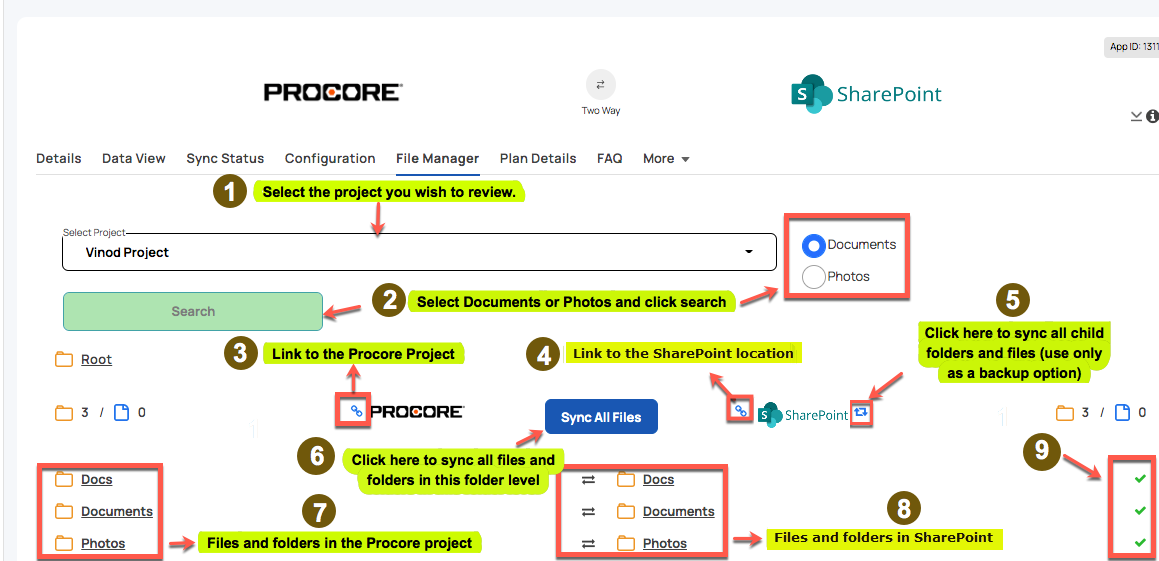 Error Logs
This section is basically for Support Users and Developers only to investigate issue within the integration.


In this tab, you can view a log of errors by the project. This is useful in case you want to know why the project may not have been synced.
Simply choose the project from the dropdown and it will populate the errors. If there are no errors, nothing will be populated.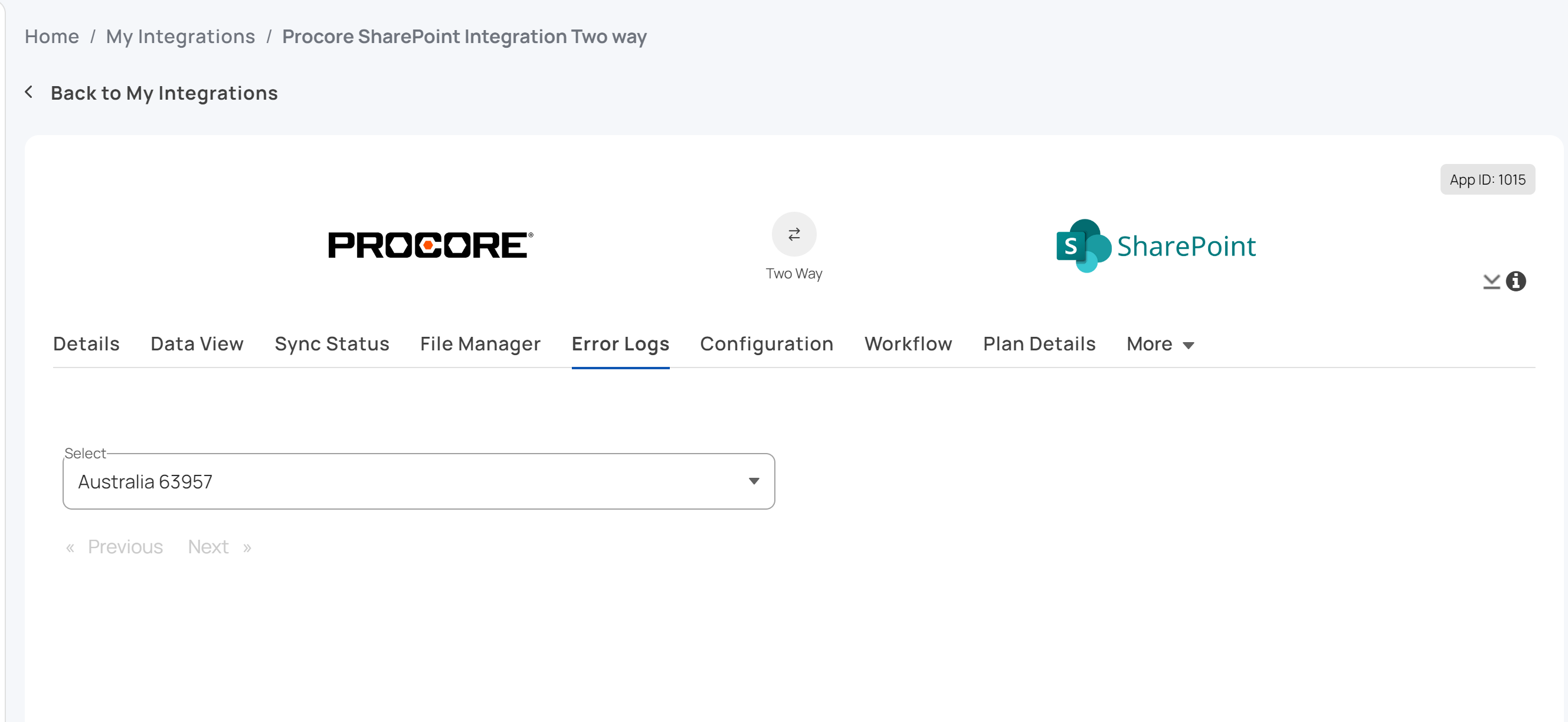 Configuration

The Configuration tab is where you will add your projects from Procore and select the location in SharePoint you want to sync it to. We have four methods to configure the projects.

1. Classic
2. Auto Sync
3. CSV
4. Folder Sync

Classic Method
1. Click on the "Add Project to Sync" button

2. In the window that pops up, choose your Procore company first

3. Select the Procore project from the list

4. In Project Tools, select whether you want to sync Documents, Photos, RFIs or all.

5. On the right hand side, select your SharePoint Site.

6. Navigate to the folder you want to sync to. (It is recommended to create a folder in SharePoint with the project name so it will be easy to identify the folder when selecting the location, as given in the screenshot below) Note: There will be a red text saying "You can't select this location" if you have selected an invalid location.

7. Click on "Select this location" to sync your Procore project files to the desired location.

8. Click on Add Project when you get the message "Path selected successfully".

Once the project is added, it can take anywhere between 1 hour to 48 hours to sync it fully, depending on the size of the project. You can view the sync status in the
"Sync Status" tab
. It will show you that the Initial Sync has been initiated and then it will show you that it is completed.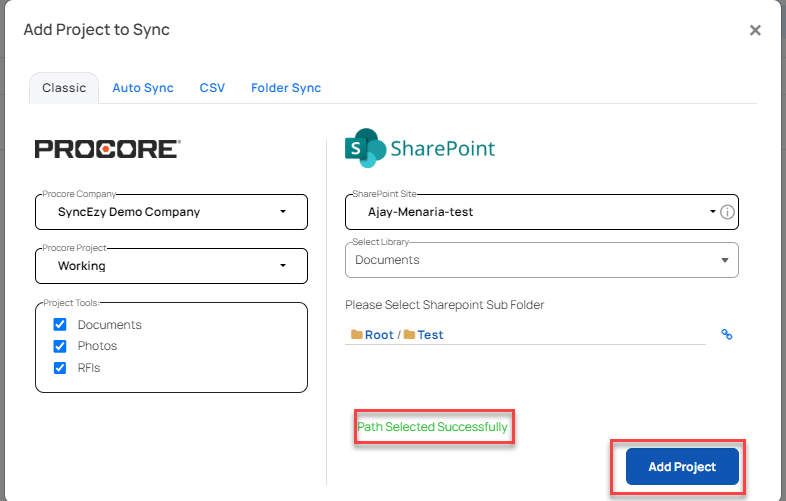 Auto Sync




Auto Sync method allows you to sync all your newly created Procore Projects to the SharePoint location automatically. Please note that this feature will only work if you have checked the box against "Enable Auto Sync". With enabling Auto Sync only new projects will be auto-synced, so if you have existing projects to sync you can use "Show Advance Configuration Options" checkbox to sync them. Please note that if you wish to disable auto sync you will need to navigate to this tab again (Configuration > Add Project to sync > Auto Sync) and remove the checkbox to disable Auto Sync.

If you do not wish to enable Auto Sync you can simply select the Project location in SharePoint and then select the existing projects to sync to that location through "Show Advance Configuration Options" .
You can also select and configure multiple projects to the same location with this option as this it will create folders with the Project name in your chosen SharePoint location. Once you have added the Projects, your projects will be added and visible under the configuration tab within 30 seconds.

CSV Method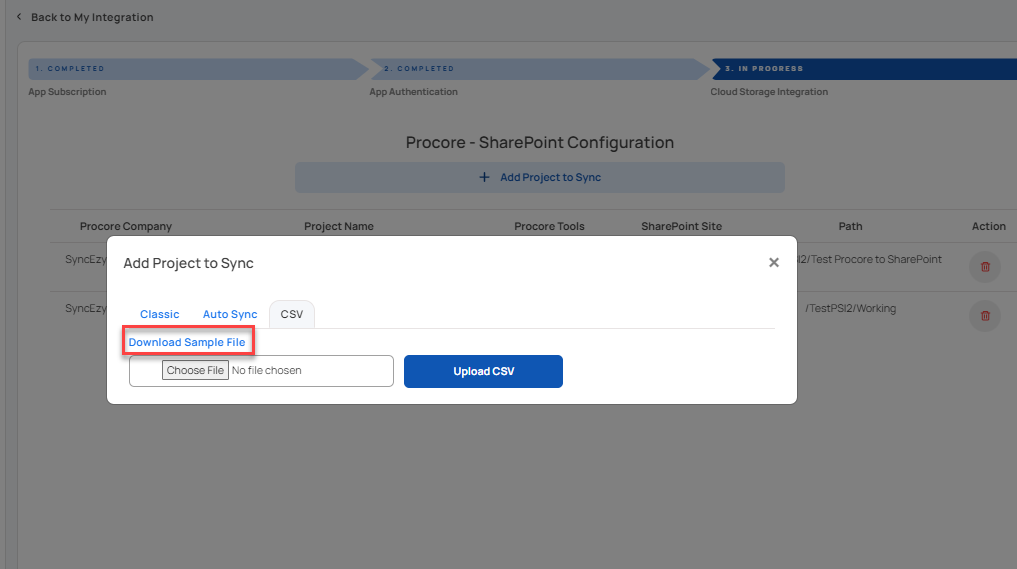 CSV method allows you to download a sample file and then you can add the details of your projects as shown in the screenshot above. You can add details of multiple projects and it will configure the project once you upload the file to our portal.
The formatting is strict, so you will need to enter the data exactly as it is presented in the sample project file. If there are any errors, they will be shown when you are uploading the csv file.

Folder Sync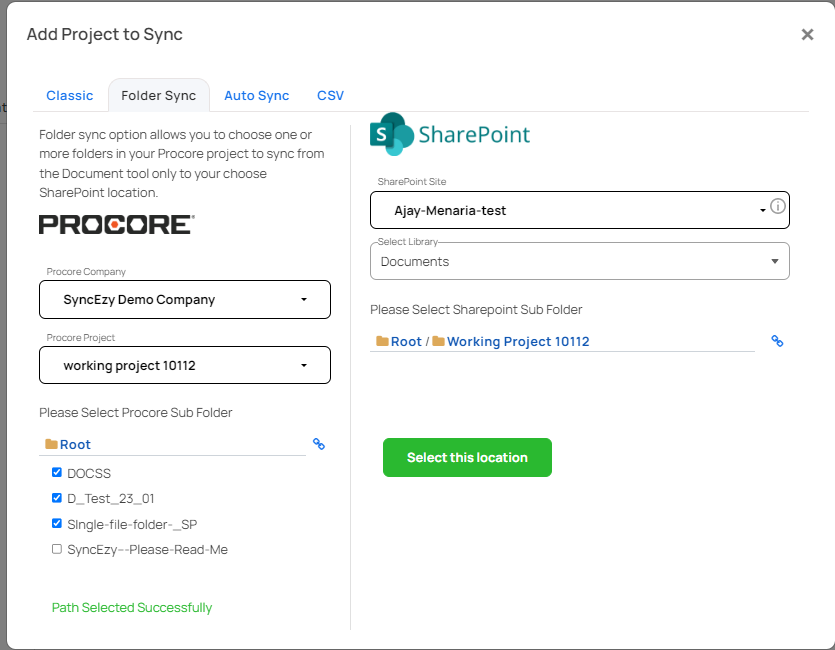 This method allows you to sync multiple top level folders from your Procore project to chosen SharePoint location. This method is for those who do not wish sync the whole project but like to sync one or multiple folders to SharePoint. You can add those folders by selecting the checkboxes and the folders will be synced to the SharePoint location. Currently, the Folder Sync method sync the Documents tool only.
Please note that only top level folders can be synced with this method. Please Note: If you would like to initiate the first sync from SharePoint then please click here and follow the given instruction before you configure your project with above methods.
Plan Details
The Plan Details tab is a summary of your current subscription status. Below is a brief explanation of each text box.
Customer Name
This is the name you signed up with on the integrations portal.
Customer Email

This is the email
you signed up with on the integrations portal
Plan Name
This will always be Procore SharePoint Two Way.
Plan Code

This is the code we use internally and it is related to the plan name.
Plan Price

This will show the amount you paid for the integration, depending on the plan tier and how long you have chosen to subscribe for.
Interval of Subscription and Interval - unit of subscription

These two fields are related and specify how many months or years you have opted to subscribe for.
Next Bill Date

This field specifies the next date you will be billed for the subscription.
Subscription ID and Subscription Number

These two fields are the references to your subscription. If you have any issues with your subscription, you can give either of these to SyncEzy's support team to help you check.


Connection Details
The Connection Details tab is simply the details of the database and hosting information for the Procore-SharePoint integration.

Other Questions

View Frequently Asked Questions
You can view our Procore to SharePoint related FAQs from
here
.
Have a support question?

We offer three support channels:
Phone - #1 for Support
US: +1 720 500 9302